So you just watched Aziz Ansari's Master of None second season on Netflix, and you've been wondering about Modena, the Italian city where the first two episodes are set. If you liked what you saw and you want to know something more about the streets and the monuments, the bars and restaurants in Modena, this is for you. You will also read about the many stereotypes about Italy and Italians, so popular in the United States and frequent in those two episodes of Master of None. Well, let us start from this: you will not find in Modena most of the things you saw, and no one really says «mamma-mia».
Modena is a 185.000 people, middle-sized city in the north of Italy, far from the sea and mostly flat. It was founded by the Romans in 185 bc along the Via Emilia, an ancient road – named after the Roman consul Marco Emilio Lepido – which is still in use and that gives its name to the region Emilia-Romagna. Master of None only shows streets, alleys and buildings in the old town, but there are also a modern part and some industrial areas. If you've ever heard about Modena before watching Master of None, it was probably because of one of the following reasons: you might be passionate about opera and you know it's where tenor Luciano Pavarotti was born; you might be into racing cars and so you know that Modena is the place where Enzo Ferrari founded his company, and where both Ferrari and Maserati cars are still built. Chances are you heard about Modena because of the wine and food it's famous for: in that case, you might know what aceto balsamico is (if you don't: it's a special vinegar once produced only in Modena, one that requires at least 12 years to be prepared). Or you might know something about Massimo Bottura: he is the chef of Osteria Francescana, which has three Michelin stars and last year was ranked first in the annual World's 50 Best Restaurants Academy list.
Osteria Francescana is also among the places you can see in Master of None. Here is a map with each and every one of them, listed in order of appearance. You can find the same map and the same guide in Italian as well, here.
The first Modena-thing you see in the "The Thief" – the first episode of the second season of Master of None – is piazzetta San Giacomo, a little square ("piazza" is Italian for square, "piazzetta" is a diminutive) around which there are three restaurants. In the middle of the square there is the nymph fountain: the statue is one of the many works by the sculptor and painter Giuseppe Graziosi (1879-1942). There are many Graziosi's sculptures around Modena, and some can be seen in Master of None. One not-so-plausible thing about that first scene in piazzetta San Giacomo is that there are two nuns walking along the square: it's not impossible to meet nuns around Modena, but it's quite rare. The fact that Italy is thought to be full of nuns and priests is a stereotype, but it's also true that we, as Italians, sometimes tend to take advantage of those stereotypes. Fun fact: there is only one other tv series that has been shot in Modena, it's produced by Rai 1 – the state-owned television network – and the main character is – AHEM – a nun.
Piazzetta San Giacomo, Modena
On the contrary, it's absolutely true that Modena is full of bicycles: everywhere in Emilia – the flat region where Modena is – people love to cycle around. The other major cities in Emilia are Bologna (known, among other things, to be the place where the first university in Europe was founded), Ferrara, Parma, Reggio Emilia and Piacenza: they are also full of bicycles, and restaurants. If you decide to visit them by bicycle, be careful: unlike what happens in Master of None, bicycles must be locked, because even if cities in the region are very safe, a bicycle left unlocked will NEVER be found again by its legitimate owner. By the way, in the scene below Dev is cycling not far from the house where Pavarotti – who died in 2007, as President Trump knows well – used to live.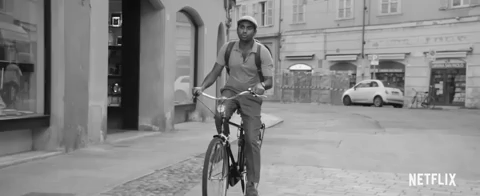 In the first scene, where Dev goes around Modena by bicycle, you can see via Canalino: the only curved street in the old town. Roman cities are famous for having a grid street plan, but when Modena was still known by its latin name of Mutina, a circular shaped amphitheater was there. Just before he cycles along via Canalino, Dev greets a man called Giorgio: he is Giorgio Pighi, the former Democratic mayor of Modena. In the second episode you discover that Pighi plays the role of Dev's landlord. Via Canalino means "Little Canal Road" and owes its name to the fact that up to the Eighteenth century there were several canals in Modena (as indeed in many other Italian cities, like in Milan). Other streets in the city – like Via Canalchiaro, which can also be seen in Master of None – still owe their name to the canals they were built upon ("Canal-chiaro" literally means "limpid canal").
Via Canalino, Modena, with its peculiar circular shape
The first place where Dev goes is Bar Cappuccino Da Angiolina, not far from the main city market. It's a very busy place and the bartender you see is its real owner. Another stereotype: Italians do no longer wear coppola hats, although it's still rather popular among elderly men living in southern Italy. In northern Italy coppola is not used, and certainly not in Modena (if you see one, consider yourself very lucky). Ansari is probably well aware of that, given that he's the only one wearing it and is probably consciously stressing the stereotype of the American-guy-in-Italy).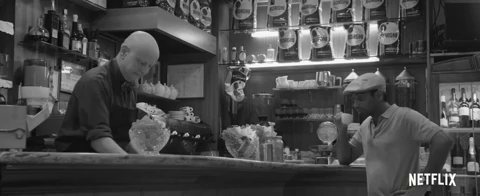 The place where Dev learns how to make tortellini is Boutique del Tortellino: it has just opened and you can buy take-away tortellini there. Although "boutique" is a French word, tortellini are a traditional dish of Modena. You can find other versions of the same concept in other cities in northern Italy, even though they have different names: cappelletti, anolini or agnolotti, for example. They are little wrapped pieces of pasta, usually stuffed with pork meat and cooked in a meat broth. When talking about traditional Emilian dishes it's very difficult to find something vegetarian and nearly impossible to find something vegan: even bread is often flavoured with lard. (But don't worry if you are vegan or vegetarian and planning to visit Modena: you WILL find food without meat).
Boutique del Tortellino, via Scarpa, Modena
In the scene that takes place in Boutique del Tortellino, you see for the first time his friend Mario, a young kid. Mario is a character built with a mix of stereotypes and is used by Ansari to quote a similar character in Bicycle Thieves, a masterpiece of Italian neorealism, directed by Vittorio De Sica in 1948. "The Thief" is an homage to Bicycle Thieves, and this is the reason why it has been shot in black and white. The movie is about a man – who lives in Rome and has a son who looks like Mario – who has to find his stolen bicycle. You have to know that if you visit Modena it's unlikely to get robbed. But still, LOCK YOUR BICYCLE.
The second bar you see in the first episode of the second season of Master of None is the one where Dev meets Francesca, Pino and Ale. It's called Menomoka and it opened a few years ago. Back to those stereotypes: Francesca is a very popular name in Italy, but it's very less common to find a thirty-something called Pino (short for Giuseppe): it's a name popular among elderly people. Same for Mario: it's a typical Italian name, but not that common among kids and young people.
Menomoka, via Canalchiaro, Modena
Dev and Sara have lunch at Hosteria Giusti, a restaurant that you can enter by passing through the kitchen (uncommon in Italy, where health and safety rules are very strict) or by its other entrance on Vicolo Squallore, in the old Jewish Ghetto. "Vicolo Squallore" means "Bleakness Alley" and it's quite famous in Modena for its funny name, which is of uncertain origin: some says it comes from another similar word, others says it's due to the fact that prostitutes (a profession considered morally squalid) used to work there. The restaurant is also a bar where people from Modena go for their aperitivo: that thing we do after work and before dinner, eating nibbles and drinking wine or light cocktails. That bar is the one where Dev borrows the smartphone he needs to call his smartphone, after it gets stolen.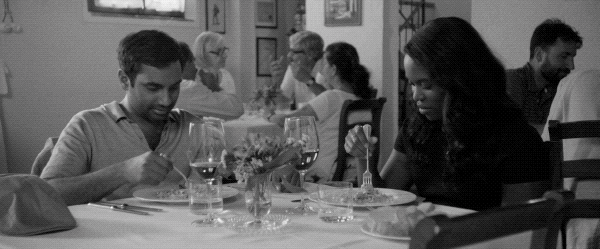 After having lunch together, Dev and Sara pass in front of the Accademia Militare of Modena. Dev doesn't know anything about the history of Modena and admits he has no clue what's in the building, which once was the main building of the Duchy of Modena. Until 1859, in fact, Modena was part of an independent state, the Duchy of Modena and Reggio: it later became part of the Kingdom of Sardinia, that then became part of the Kingdom of Italy, with a plebiscite. The palace can only be visited in a few days, always on weekends, and you must book in advance.
L'Accademia Militare di Modena, in piazza Roma
The bar where Dev and Sara go after their stroll is called Archer, and it opened just a few years ago. It's very unlikely to get robbed while you sit there, and it's even more unlikely not to find someone willing to help you if you start screaming «al ladro» ("thief!"), but the smartphone-robbery scene is also a reference to De Sica's Bicycle Thieves: namely to the scene where the main character's bicycle is stolen and he can be seen running after the thief among indifferent people screaming «al ladro!».
Archer, in via Cesare Battisti, Modena
You might have noticed that in via Cesare Battisti, where Archer is, there are cobblestones: as Sara notes in a scene where she and Dev use bicycles, it might be quite stressing to cycle over uneven cobblestone roads, but you will find them in many other Italian cities.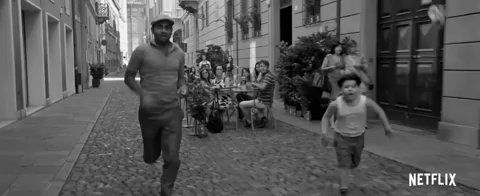 The thief pursuit scene takes place in Piazza Grande, the main square of the city, overlooked by the Town Hall and the cathedral, il Duomo di Modena. The square, the cathedral and its tower – called Ghirlandina – have been listed as UNESCO World Heritage Sites since 1997. The cathedral was built between 1099 and 1319, and it's an example of Romanesque architecture: it was built using marble taken from a nearby Roman-era cemetery. There is also a play dedicated to the cathedral and its architecture: it's called Il tempio degli uomini liberi and it was written by literature Nobel Prize Dario Fo.
Piazza Grande ("Big Square"), Modena
Right after losing track of the thief, Dev and Mario talk to a policeman in Piazza San Francesco, in front of another statue by Graziosi: it depicts Saint Francis of Assisi. This scene is strange: the meeting would probably take place in a police station, where you would be directed to in order to report a crime, and the policeman would probably not tell you to "give up", but once again this is probably another reference to Bicycle Thieves. There is a scene where with little luck the main character asks a policeman for help to find his stolen bicycle.
Piazza San Francesco, Modena
Another stereotype about Italians (largely justified) is in the scene where Dev and Mario speak with the thief in Via Stella, where also Osteria Francescana is. The thief's mother looks out of the window and makes a typical Italian gesture, the one – which has recently become a meme – in which all the fingers of one hand touch themselves. It's supposed to mean «What the hell are you saying?», and is actually often used.
In the following scene a policeman goes into the woman's apartment with Dev, Mario and the thief (again, a reference to Bicycle Thieves). In this scene there is another stereotype about Italy: the policeman tells Dev that no one would support him in pressing charges against the thief because the whole neighbourhood would lie to provide an alibi for the thief. This is something that happens when dealing with Mafia, but would not happen in a city like Modena, when you have to deal with a stolen smartphone. And, most importantly, no Italian policeman would behave in that way, accepting an invite for lunch by someone who's suspected of a crime. It's an exaggeration, built upon a stereotype.
In via Stella, Modena
The last place seen in the first episode, the one where Dev celebrates his birthday, is Enoteca Compagnia del Taglio, a place that actually exists and where you can also have dinner.
Enoteca Compagnia del Taglio, Modena
The second episode of Master of None is only partially set in Modena, but it shows at least one more thing about Modena: its colours. In fact, most of the buildings in the center of Modena are yellow, red and orange. You can see that in the hugging (and jumping) scene here below. The scene takes place under a portico, another thing you might find in many Italian cities.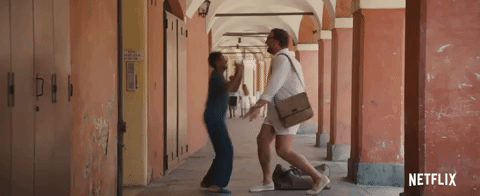 Dev then takes Arnold to Modena's market hall, Mercato Albinelli. You might have already seen it in the Chef Table episode with Massimo Bottura. It's not far from Piazza Grande. In that market there is another Graziosi statue: it represents a girl carrying a basket. If you get there, remember that food tasting is a privilege reserved for long-standing customers and people known to the shopkeepers, such as is Dev in the scene. Also remember that the market is only open in the morning.
Il mercato Albinelli, Modena
Here's another statue by Graziosi: it represents a girl and a goose.
Piazza XX settembre, Modena
In the second episode Dev and Arnold have dinner at Osteria Francescana: as explained by Ansari in his Vogue interview, they have dinner in the wine cellar, where guests are usually not allowed. If you want to know something more about Massimo Bottura and his dishes, he wrote a coffee table book: the Italian version is called Vieni in Italia con me, the english version is Never trust a skinny Italian chef.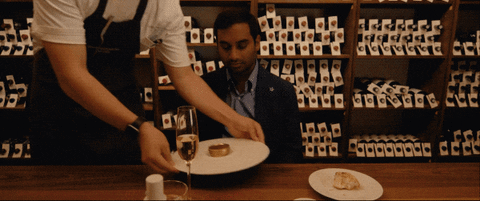 One of the last images of Modena shows the torre Ghirlandina. If you go to the top you can see Modena from above: it's worth the effort.
La Ghirlandina vista da piazza XX settembre