Ogni film di Star Wars, in un certo senso, è una citazione dei precedenti: sono talmente ricchi di dettagli, micro-storie e scene con moltissimi personaggi strani o buffi che nei film successivi è sufficiente mostrarne qualcuno per fare contenti gli appassionati più minuziosi. Anche Rogue One, il primo film spinoff della saga originale uscito la settimana scorsa, non è da meno: oltre a mostrare cose importanti della "vecchia trilogia" – SPOILER, ovviamente: ma ne abbiamo parlato qui – contiene moltissime citazioni di vecchi film, alcune esplicite e altre molto sottili. Abbiamo cercato di raccoglierle di seguito: se ne avete notata qualcun'altra, fatecelo sapere nei commenti.
– Leggi anche: Dieci risposte su "Rogue One"
(ovviamente, da qui in poi è pieno di spoiler per chi ancora non ha visto il film)
R2-D2 e C-3PO
I due droidi della "vecchia" trilogia appaiono solamente in una brevissima scena di Rogue One: sulla base dei Ribelli di Yavin IV, mentre osservano i preparativi per l'attacco al pianeta Scarif. Come già raccontato da C-3PO in diverse occasioni, i due droidi erano da tempo di proprietà della Ribellione.
X-Wing, AT-AT, AT-ST
Tre fra i più celebri veicoli della "vecchia" trilogia sono presenti anche in Rogue One: la X-Wing è il modello di caccia stellare più diffuso fra i Ribelli – è quello che guida Luke Skywalker in tutti i film in cui è presente, per intenderci – mentre gli AT-AT e gli AT-ST sono due veicoli da guerra dell'Impero galattico, visti rispettivamente nell'Impero colpisce ancora e nel Ritorno dello Jedi. Gli AT-AT sono quelli a quattro zampe, gli AT-ST invece ne hanno solo due. A un certo punto combattono anche fra loro, AT-AT e AT-ST contro X-Wing, come non era mai successo nella saga originale, nella battaglia sulle spiagge del pianeta Scarif.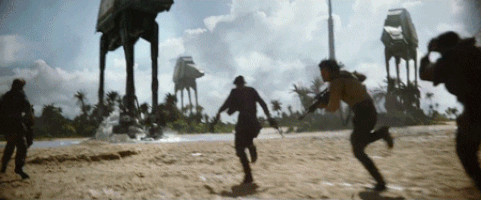 In Rogue One è evidente una certa filologia nella riproduzione delle astronavi della "vecchia trilogia", anche in quelle minori: gli incrociatori stellari dell'Impero sono identici a quelli dei vecchi film, perfino nella luce che emanano.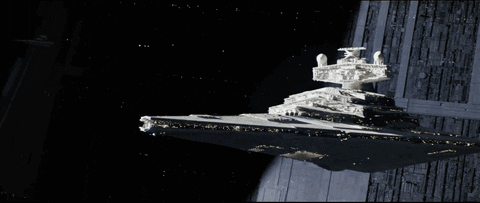 Il latte blu
Questa stramba sostanza blu compare due volte nella saga di Star Wars: viene bevuta da Luke Skylwaker in una delle prime scene di Una nuova speranza, mentre pranza coi suoi genitori adottivi, e da Padme Amidala nell'Attacco dei Cloni.
La rivediamo inquadrata in una delle scene di Rogue One nella casa degli Erso sul pianeta Lah'mu. Le enciclopedie ufficiali di Star Wars dicono che il liquido in questione è latte di Bantha, creature ingombranti e pelose che vivono su Tatooine (il pianeta natale di Luke Skywalker).
Il tipo su Yavin IV che fissa le astronavi
Una delle scene più prese in giro di Una nuova speranza, il primissimo film della saga, mostra una sentinella Ribelle che "punta" le astronavi che atterrano sul pianeta con una pistola, come se potesse sorvegliarle.
Anche in Rogue One viene mostrata brevemente una simile sentinella.
I capi della ribellione
Nel film interpretano una parte secondaria ma rilevante una serie di leader dei ribelli già visti nei film precedenti. Il più famoso è sicuramente Bail Organa, il padre adottivo della principessa Leia presente nella "nuova" trilogia, interpretato da Jimmy Smits (un attore americano che ha fatto soprattutto tv: West Wing, Sons of Anarchy, NYPD – New York Police Department e Dexter).
In Rogue One c'è anche Mon Mothma, un personaggio che nel corso della trilogia originale si è visto per circa venti secondi nel Ritorno dello Jedi, il terzo film, ma che ha un ruolo molto importante in Clone Wars – la serie animata ufficiale di Star Wars – e nel cosiddetto universo espanso, cioè i libri o fumetti di Star Wars pubblicati per conto della Lucasfilm da autori vari ma considerati solamente semi-ufficiali (tanto che la Disney ha detto che non ne sta tenendo conto, nella produzione dei nuovi film). Mothma è il cancelliere della Ribellione, il suo membro più alto in grado: è lei che per prima parla a Jyn della sua missione. L'attrice che interpreta la parte di Mon Mothma è Genevieve O'Reilly, che originariamente doveva recitare lo stesso personaggio nella Vendetta dei Sith, il terzo film della saga uscito nel 2005. La scena in cui compariva Mothma era stata poi tagliata nella versione finale del film, ma dieci anni dopo O'Reilly ha ripreso il suo ruolo originale (nel Ritorno dello Jedi, Mothma era stata interpretata dall'attrice britannica Caroline Blakiston, che oggi ha 83 anni).
Le differenze fra la Mothma "originale" e quella in Rogue One (a destra)
Un altro personaggio già presente nei film precedenti è il generale Jan Dodonna, che in Una nuova speranza coordina l'attacco alla Morte Nera da terra. Allora era interpretato dall'attore scozzese Alex McCrindle; in Rogue One la sua parte è interpretata dal nordirlandese Ian McElhinney. L'avete già visto in Game of Thrones: è Barristan Selmy, uno dei consiglieri personali di Daenerys Targaryen.
In una delle scene su Yavin IV ci sono anche due delle citazioni più sottili di tutto Rogue One: poco dopo che Jyn ha parlato all'intera Ribellione della possibilità di rubare i piani della Morte Nera, agli altoparlanti della base si sente chiamare un certo "generale Syndulla". Quasi certamente è un riferimento a Hera Syndulla, una dei protagonisti di Star Wars Rebels, la serie animata ufficiale di Star Wars di cui è in corso la terza stagione. Sempre su Yavin IV, dopo un breve dialogo con Mon Mothma il senatore Bail Organa decide di contattare "qualcuno" – probabilmente sua figlia Leia, dato che parla al femminile – per comunicare con Obi-Wan Kenobi, che in quel momento è ancora in esilio su Tatooine. Mentre la scena prosegue altrove, si sente Organa che chiama un certo "capitan Antilles" per affidargli la missione di contattare Leia. Potrebbe essere Wedge Antilles, uno dei piloti più bravi della ribellione e amico di Luke Skywalker: è lui che nel Ritorno dello Jedi fa saltare in aria la seconda Morte Nera. Oppure Raymus Antilles, il capitano con cui viaggia la principessa Leia all'inizio di Una nuova speranza (ha senso, se siete della scuola di pensiero secondo cui l'astronave dell'ultima scena di Rogue One sia la stessa del primissimo film).
Qualcuno ha messo su YouTube una raccolta delle scene in cui compare Wedge, con "Eye of the tiger" dei Survivor in sottofondo.
A proposito di piloti
Uno dei primi a morire nella battaglia stellare per disattivare lo scudo di Scarif è un pilota ribelle il cui nome in codice è "Red Five". È il nome in codice che viene assegnato a Luke Skywalker durante la battaglia finale in Una nuova speranza, ambientata cronologicamente a pochi giorni di distanza dalle vicende di Rogue One. Ha senso: Luke prende quel nome in codice proprio perché è stato "lasciato libero" dalla morte del pilota che si vede in Rogue One.
La vasca di Darth Vader
Quando in Rogue One Krennic va a visitare Darth Vader nella sua "residenza" su Mustafar, Darth Vader è immerso in una specie di vasca di acqua colorata. Ne abbiamo già vista una simile all'inizio dell'Impero colpisce ancora, il secondo film della "vecchia" trilogia: la Ribellione la usa per curare Luke Skywalker dopo che era quasi morto per ipotermia sul pianeta Hoth.
Il tipo che tira la spallata a Jyn
In una delle scene girate sul pianeta Jedha, quello dove si nasconde il guerriero ribelle Saw Guerrera, Jyn va addosso a un misterioso tizio con il volto sfigurato, che se la prende molto. Il tizio in questione è Cornelius Evazan, un personaggio che compare in una scena breve ma significativa di Una nuova speranza, il primissimo film della saga. È quello che al bar di Mos Eisley si mette a litigare con Luke Skywalker assieme a Pond Baba, un alieno suo amico: per evitare guai peggiori, Obi-Wan cerca di offrire a Evazan da bere ma poi è costretto a tagliare un braccio a Pond Baba con la spada laser.
Il suo cameo era già stato scoperto dagli appassionati, che avevano riconosciuto il profilo di Evazan – che negli anni è stato notevolmente arricchito nei fumetti laterali alla saga – in un filmato del backstage di Rogue One presentato a luglio.
Oola e gli scacchi
La brevissima scena in cui viene ripreso il covo dei ribelli di Saw Guerrera, su Jedha, contiene due minuscole citazioni alla "vecchia" trilogia. Due dei ribelli stanno giocando a una cosa molto simile agli Oloscacchi, una specie di gioco da tavolo presente sul Millennium Falcon – l'astronave di Han Solo – e già rivisto nel Risveglio della Forza, il settimo film della saga uscito nel 2015.
Un altro dei ribelli sta fissando un ologramma in cui qualcuno ha riconosciuto Oola, la schiava-danzatrice di Jabba the Hutt che viene uccisa nel suo palazzo nel Ritorno dello Jedi. Ma è possibile che sia solamente un altro membro della specie Twi'lek, di cui fanno parte diversi personaggi secondari della saga (fra cui anche una Jedi: Aayla Secura, presente sia nell'Attacco dei cloni sia nella Vendetta dei Sith).
Cattivi presentimenti
"Ho un cattivo presentimento" è una frase ricorrente nella saga di Star Wars: in ogni film viene pronunciata almeno una volta, quasi sempre da un personaggio diverso. In Rogue One lo dice il droide K-2SO poco dopo che lui, Jyn e Cassian sono entrati negli archivi imperiali di Scarif, ma viene interrotto prima che possa finirla. Qui ci sono tutte le ricorrenze della frase nei film di Star Wars, raccolte anche in un video.