Game of Thrones è arrivato al quarto episodio della settima e penultima stagione, e fino a una ventina di minuti dalla fine del più recente episodio non c'erano ancora state grandi battaglie. O meglio: c'erano state ma non ce le avevano davvero fatte vedere (fatta forse eccezione per quella tra il Greyjoy cattivo e i Greyjoy buoni). Da qui in poi si parla della battaglia che c'è stata alla fine di "The Spoils of War", il quarto episodio della settima stagione, trasmesso nella notte tra domenica e lunedì negli Stati Uniti e da quel momento disponibile in lingua originale per gli abbonati Sky.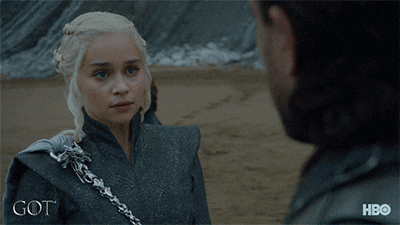 Dicevamo: anche la prima parte dell'episodio di ieri è stata emotivamente intensa (dialoghi, rivelazioni, sorelle che si rivedono dopo anni, Jon Snow di nuovo in una caverna con una donna, anche se solo per una lezione di storia) ma parlata, più che combattuta. Poi, dopo più di mezz'ora dall'inizio, mentre Jaime parla con Rickard/Dickon, Bronn fa una faccia molto preoccupata: la faccia che fai quando senti il rumore di quella che molto probabilmente è un'orda di Dothraki che dall'altra parte della collina sta cavalcando a più non posso verso di te, per ucciderti.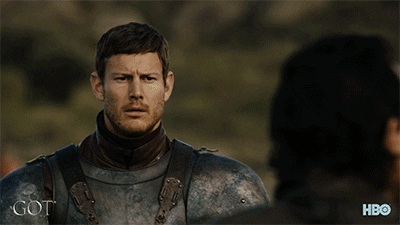 Tutti gli uomini di Jaime hanno preso "lance e scudi" e "formato una linea"; i Dothraki sono arrivati e con loro c'era un drago. Da lì in poi c'è stata la battaglia, la prima vera, in campo aperto, tra parte dell'esercito di Cersei e parte dell'esercito di Daenerys. Tra l'altro è stata la prima volta in cui abbiamo davvero visto i Dothraki fare quello che da sette stagioni ci dicono tutti che sono bravissimi a fare. È stata una battaglia importante per la trama e complicatissima da girare: ai livelli della Battaglia dei bastardi (nel nono episodio della sesta stagione, tra Jon Snow e Ramsey Bolton) e della battaglia di Aspra Dimora (o Hardhome) tra uomini e non-morti.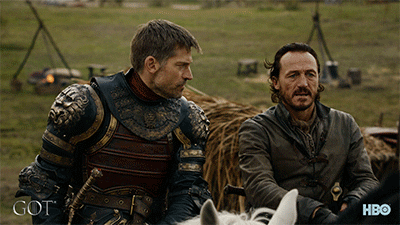 Poco dopo aver trasmesso in tv l'episodio della battaglia, HBO ha messo su YouTube un video di oltre dieci minuti – se siete impazienti e forti in inglese, è alla fine di questa pagina – in cui gli ideatori della serie, gli attori e i vari professionisti che hanno lavorato all'episodio parlano dei circa dieci minuti della battaglia, raccontando dettagli e curiosità da dietro-le-quinte.
La prima cosa da sapere è che tutti sono molti felici di aver battuto qualche record riguardo al numero di persone a cui in un film o in una serie tv è stato dato fuoco. Rowley Irlam, capo degli stuntmen dell'episodio, ha detto: «In una sequenza ci sono 73 esplosioni, ed è un record. Non si era mai visto in un film o in una serie tv, figuriamoci in una sola sequenza. Abbiamo anche dato fuoco a 20 persone nello stesso momento, ed è un record. Credo che in Salvate il soldato Ryan lo fecero con 13 persone in una spiaggia e in Braveheart erano 18, ma con fiamme solo in alcune parti del corpo». Il video sul dietro le quinte di Game of Thrones fa anche vedere come hanno fatto quelle scene con gli arcieri Dothraki in piedi sui loro cavalli e, tra le altre cose, come si fa a mettere un drago grande come un Boeing 747 che vola su un campo di battaglia sputando fuoco.
Camilla Naprous, l'esperta di cavalli, ha detto che nel piano di lavorazione c'era, parlando di questa battaglia, la frase: «e ora Camilla dovrà fare le sue magie». È lì che ha deciso di mettere gli arcieri in piedi sui cavalli. Naprous ha anche detto di essersi un po' ispirata a Mad Max: ha proprio usato l'aggettivo Madmaxy.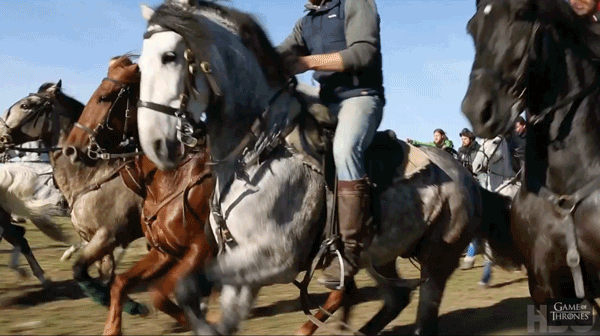 Il video inizia con Bernie Caulfield, la produttrice esecutiva della serie, che ricorda il momento in cui, vedendo che avrebbero dovuto girare la battaglia pensò: «È più grande di BOB» (scopriamo poco dopo che è il nomignolo che quelli che lavorano a Game of Thrones hanno dato alla Battaglia dei Bastardi, cioè Battle Of the Bastards). Poco dopo David Benioff dice, con buona sintesi, che è una battaglia un po' da western (i Dothraki son gli indiani), solo che c'è di mezzo un drago. D. B. Weiss, l'altro creatore della serie, dice che per lui è stato «come un viaggio nel tempo», perché bisognava chiedersi «cosa sarebbe successo se qualcuno avesse avuto un F-16 in una battaglia medievale?».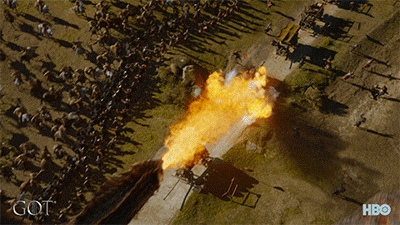 Matt Shakman, il regista dell'episodio, ha spiegato che in battaglie così caotiche serve concentrarsi su un punto di vista, su qualcuno con cui il pubblico si possa immedesimare. Ha detto di aver scelto quello di Jaime. Weiss ha aggiunto però che il personaggio che prova i sentimenti più contrastanti è Tyrion, che vede tutto dall'alto e non ha ben chiaro per chi tifare. Peter Dinklage, che Tyrion lo interpreta, ha detto: «Ogni parte di lui vorrebbe poter intercedere, ma non può. La speranza, ha detto Bryan Cogman, uno dei co-produttori, è far sì che lo spettatore non sappia bene per chi tifare. Che dopo sette stagioni è un ottimo traguardo da raggiungere».
Il video mostra poi i diversi livelli della preparazione di una battaglia come quella di "The Spoils of War": da quelli che girano per il set (un luogo noto come Los Barruecos, nella parte di Spagna vicina al Portogallo) con pezzi di erba sminuzzata da lasciare per terra per dare l'idea che da lì siano appena passati dei Dothraki a quelli che cospargono cenere o spruzzano spray nero che dia l'idea di qualcosa che è appena bruciato. Nicole Day, l'addetta che dipinge gli oggetti di scena, ha detto: «Magari quando lo vedi non ci fai caso; ecco, vuol dire che abbiamo fatto bene il nostro lavoro perché tu accetti che sia così».
Uno di quelli che lavorano a Game of Thrones è Sam Conway, il capo degli effetti visivi: ha una faccia che andrebbe benissimo per Game of Thrones, Benioff l'ha definito «un pazzo, ma nel miglior modo possibile» e ha detto che «uno dei suoi principali incarichi è dar fuoco alle cose».
Le fiamme dall'alto verso il basso sono fatte in studio, davanti a uno schermo nero e poi modificate in post-produzione. Quelle sul terreno sono invece vere, girate sul momento, con vere esplosioni. Le cose difficili sono due: gestire i tempi e l'ordine di una esplosione dopo l'altra, ed evitare che le persone a cui viene dato fuoco si facciano seriamente male. Il problema principale, quando si tratta di venti persone che prendono fuoco tutte insieme, è che quelle in mezzo rischiano di prendersi, magari in faccia, le fiamme degli altri. È uno di quei lavori in cui devi fidarti totalmente dei tuoi colleghi. Nel video si vede una delle scene in cui tante persone prendono fuoco: si sente un conto alla rovescia fino al momento delle fiamme, e poi da lì qualcuno che conta fino a 10. Al 10 arrivano i pompieri con gli estintori. Nessuno si è fatto male.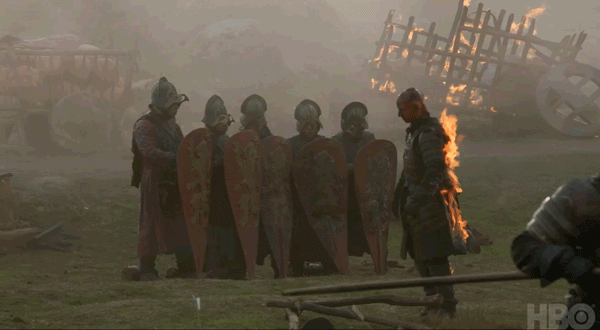 Un po' di dettagli tecnici, spiegati dal direttore della fotografia Rob McLachlan e dal regista dell'episodio, che ha detto «avevamo tutti i giocattoli immaginabili per fare quelle scene»:
Quattro cineprese, ma altre volte anche sette-otto
Quattro veicoli «con delle ottime sospensioni» su cui montare delle cineprese
Una spidercam: si usa anche negli stadi per inquadrare le partite dall'alto. È una cinepresa che scorre a diversi metri da terra, su un cavo. Quella usata in "The Spoils of War" può muoversi fino a 110 chilometri all'ora
Un drone, che più che essere un grande drone è un piccolo elicottero
Poi, ovviamente, ci sono moltissimi effetti speciali: il bello in questo caso è vedere le scene prima (per esempio con Daenerys su una specie di immenso toro meccanico) e dopo (con Daenerys che abbrustolisce soldati dei Lannister dicendo Dracarys a Drogon).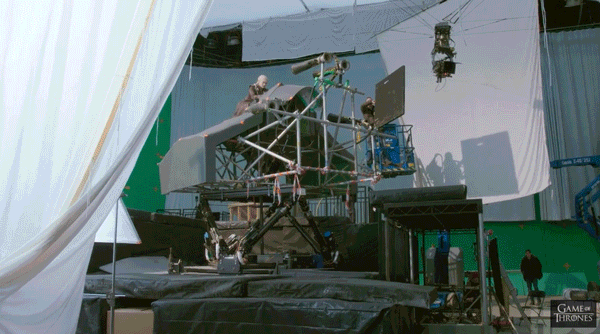 Il regista ha detto che probabilmente si annoierà molto nel dirigere in futuro l'episodio di una serie tv normale: «Dove sono le cinque cineprese e i 20 uomini che prendono fuoco?». McLachlan, il direttore della fotografia, dice, alla fine del video: «This is big cinema».